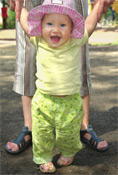 Surgery to repair a cleft of any kind is a highly individualized procedure that's intended to not only close the defect, but also to insure your child's ability to function and grow normally.
Cleft lip repair, also called cheiloplasty, includes reconstruction of a more normal appearance, namely:
Closure of the cleft resulting in a scar located in the normal structures of the upper lip
Formation of a cupid's bow (the curve at the center of the upper lip)
Considerations for adequate distance between the upper lip and nose
Because the palate creates the floor of the nasal cavity, considerations in repairing a cleft palate include:
Allowing for normal growth, function and speech development
Relation of the palate to the auditory canal and hearing
Development of the teeth and jaw alignment
Where the cleft also affects the shape of the nose, additional procedures may be recommended to:
Achieve symmetry between the nostrils
Create adequate length of the columella (the tissue that separates the nostrils)
Increase the angle of the nasal tip, to avoid a flattened nasal tip or one that pulls downward
When should my child have the surgery?
The timing of the cleft repairs depend on the individual circumstances of your child.
Cleft lip repairs are initially performed when a child is at least 10 weeks of age and 10 pounds in weight and has a hemoglobin (or blood count) of at least 10.
Cleft palate repairs are generally performed when a child is somewhat older, from 9 to 18 months of age.
Cleft repair may be delayed in order to treat other, more life-threatening problems that may be present such as a heart or lung disorder.