US plastic surgery is enjoying a boom, despite the economy. Find out which cosmetic procedures and treatments are going and down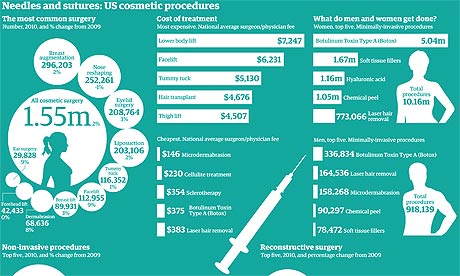 US plastic surgery statistics. Click image for graphic
Plastic surgery is big business in the US – and the latest figures show that despite the recession, that business is booming.
Americans had over 13m cosmetic procedures last year, spending $10.1bn in the process – on collagen and botox injections, breast implants, buttock lifts and nose jobs.
The numbers are up 5% on the year before – and a 77% increase on the year 2000. The vast majority of those procedures are defined as "minimally invasive" – some 11.6m of them, in fact.
These figures, from the American Society of Plastic Surgeons, give us a real insight into an industry which is still a lot smaller in the UK.
The data shows that male procedures are on the rise – including 18,280 breast reductions (+6% on 2010), 63,585 nose jobs (-4%) and 13,217 hair transplants (+2%)
What may seem the most unusual figure for British audiences are the number of teenagers getting treated. Although it's only 2% of the total, that's still 218,909 procedures in a year – such as laser hair removal (66,664 procedures), nose jobs (35,005), boys having breast reductions (13,530) and botox injections (13,467). Another 8,525 teenage girls have breast implants.
Here are some of the key facts:
• Botox is the biggest cosmetic treatment that Americans have – up 12% on last year. But it is also one of the cheapest procedures you can have, costing an average of $375 each time. It adds up to over $1bn a year
• Breast enhancement is the top surgical procedure – up 2% on last year. That's 296,203 procedures in 2010, costing an average of $3,351 each
• The biggest decrease is in surgical lip augmentation, which is down 21% to 17,143, and collagen injections are down 5% too, to 160,000
• There has been a 61% increase in calf augmentations – although they only count for 418 cases
Reconstructive surgery – where someone is recovering from an operation, accident or illness, is also substantial – 5.3m treatments in 2010 (in addition to the 13m cosmetic total), up 2% on the year before. Four million of them are for tumour removal, including skin cancer.
We've extracted the key data from the report – and you can download it below. You can also compare it over time.
What can you do with it?