Denver area plastic surgeon, Dr. Tanya Atagi, says more men than ever are looking to reduce enlarged male breasts.
Denver, CO (PRWEB) June 02, 2012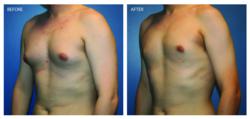 Dr. Tanya Atagi, Medical Director of Atagi Plastic Surgery & Atagi Skin Aesthetics in the Denver suburb of Lone Tree, Colorado, reports an increase in the number of men seeking to correct gynecomastia, sometimes irreverently referred to as "man boobs." Dr. Atagi says this trend reflects a growing willingness by men to seek plastic surgery and cosmetic procedures to address concerns that cannot be treated with diet and exercise. Male breast reduction is one of the most common appeals she hears from men. In fact, according to the American Society for Aesthetic Plastic Surgery, men underwent nearly 1.1 million cosmetic procedures last year, a 17 percent increase over 2006. Male breast reduction ranked among the top five surgical procedures for men along with liposuction, eyelid surgery, rhinoplasty and hair transplantation.
"Gynecomastia, the medical term for enlarged male breasts, can have a truly negative effect on a man's quality of life," says Dr. Atagi. "While this condition exists naturally in many men, it is common for those afflicted by it to feel self-conscious or embarrassed by their appearance. Affected men may alter or avoid activities to the point of not changing at the gym, wearing a shirt at the beach or passing on water activities altogether. The great news is that in most cases, we can greatly improve the appearance of gynecomastia, giving men a flatter, more defined, masculine appearance in the chest area with a procedure that can often be performed here in the office."
Male breast reduction by Atagi Plastic Surgery & Atagi Skin Aesthetics begins with a consultation by Dr. Atagi. The patient's overall health and goals are reviewed and, if appropriate, the procedure is planned. Dr. Atagi uses VASER® Liposuction to remove fat from the breast and carefully contour the chest. VASER Liposuction employs ultrasound technology, and for most patients the procedure can be performed safely, privately and effectively in office and with only local anesthesia and a mild sedative. Dr. Atagi reports that most patients are back to their daily routines within a day or two.
"Male breast reduction is a rewarding procedure to perform because for many men, young or old, this will resolve a problem that has significantly troubled them since adolescence. Many of the patients who I treat for gynecomastia report that they wish they had sought treatment for their 'man boobs' years ago," said Dr. Atagi.
Dr. Atagi is the Medical Director of Atagi Plastic Surgery & Atagi Skin Aesthetics in Lone Tree, Colorado in the Denver area. Established in 2003, Atagi Plastic Surgery & Atagi Skin Aesthetics offer a broad list of services. In addition to male breast reduction, Dr. Atagi also offers a number of other services for men, including BOTOX®, chemical peels, liposuction, eyelid surgery, laser hair removal and skin conditioning. To learn more about Dr. Atagi call, 303.327.7300 or visithttp://www.atagimd.com/index.htm.